I came across this new Meme through
Lola's Reviews
.
It's done through
Because Reading is Better Than Real Life
.
Here's How it Works:

On the first Saturday of each month, I will post three books from my TBR List. You all will help me choose which book I will read next, through the poll listed. On the second Saturday of the month I will announce the book that won. Then, I'll read the book and on the last Saturday of the month I'll post a review.

The Books:
The Blurb:

Since the spring of 2036, when the world changed forever, Claudia and a small clan of survivors have roamed the streets of a very altered Nashville: polluted and desolate, except for the ever-present threat of cannibal Hoarders. Together they must undergo punishing tests of endurance and psychological challenge sometimes with devastating consequences all just to live another day.

With food and water in dwindling supply, and with danger lurking around every corner, no one can be trusted. And as her world starts to make less and less sense, Claudia begins to realize something terrifying: she is just a pawn in some sort of game, and all of her actions are being controlled from afar by a mysterious gamer. So when she meets a maddening and fascinating outsider named Declan, who claims to be a game moderator, she must decide whether to join him in exchange for protection and access to the border.

If they play the game right, they are each other's best hope for survival and a life beyond the only world Claudia's ever known: the terrifying live-action game known as The Aftermath.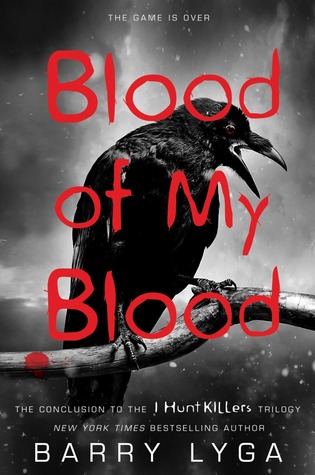 The Blurb:

Jazz Dent has been shot and left to die in New York City. His girlfriend Connie is in the clutches of Jazz's serial killer father, Billy. And his best friend Howie is bleeding to death on the floor of Jazz's own home in tiny Lobo's Nod. Somehow, these three must rise above the horrors their lives have become and find a way to come together in pursuit of Billy. But then Jazz crosses a line he's never crossed before, and soon the entire country is wondering: "Like father, like son?" Who is the true monster?
The chase is on, and beyond Billy there lurks something much, much worse. Prepare to meet...the Crow King.

The Blurb:

Harry August is on his deathbed. Again.

No matter what he does or the decisions he makes, when death comes, Harry always returns to where he began, a child with all the knowledge of a life he has already lived a dozen times before. Nothing ever changes.

Until now.

As Harry nears the end of his eleventh life, a little girl appears at his bedside. 'I nearly missed you, Doctor August,' she says. 'I need to send a message.'

This is the story of what Harry does next, and what he did before, and how he tries to save a past he cannot change and a future he cannot allow.

Voting closes on September 12 at 11:59pm EST.