This TBR Poll meme is hosted by
Because Reading is Better Than Real Life
.
Here's How it Works:

On the first Saturday of each month, I will post three books from my TBR List. You all will help me choose which book I will read next, through the poll listed. On the second Saturday of the month I will announce the book that won. Then, I'll read the book and on the last Saturday of the month I'll post a review.

Back again for another poll. Last month, I had a tie, but ended up only finishing and reviewing one of books,
Butterman's (Time) Travel, Inc
, which I really ended up enjoying. There were definite parts I didn't like (a lot of drug use) but the time travel aspect was really enjoyable, as were the other books in the series, which I have read now as well. The other book, The Advent Killer, looked good, but wasn't. Got through 27% (I think it was) before I gave up. Dullsville! :)
Hopefully this month will achieve great results again. I wasn't sure what to put on my list this time, but I think I ended up with a good variety here.
The Books: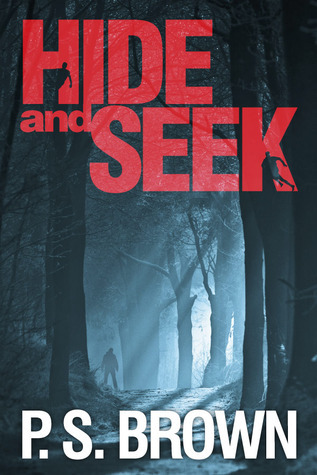 The Blurb:

An unforeseen school reunion sparked by the death of a childhood friend quickly turns into a living nightmare for Peter Stevenson.

Waking the day after, he finds his friends missing, his possessions gone, and himself placed at the centre of a twisted game of hide and seek.

As the day unfolds, Peter is forced to relive his past in order to find and save his friends. And as the cruel challenge against the clock unfolds, he has to come to terms with the fact that any one of his friends could be the mastermind behind the sinister game.


The Blurb:

More than anything, Tom Raines wants to be important, though his shadowy life is anything but that. For years, Tom's drifted from casino to casino with his unlucky gambler of a dad, gaming for their survival. Keeping a roof over their heads depends on a careful combination of skill, luck, con artistry, and staying invisible.

Then one day, Tom stops being invisible. Someone's been watching his virtual-reality prowess, and he's offered the incredible—a place at the Pentagonal Spire, an elite military academy. There, Tom's instincts for combat will be put to the test, and if he passes, he'll become a member of the Intrasolar Forces, helping to lead his country to victory in World War Three. Finally, he'll be someone important: a superhuman war machine with the tech skills that every virtual-reality warrior dreams of. Life at the Spire holds everything that Tom's always wanted—friends, the possibility of a girlfriend, and a life where his every action matters—but what will it cost him?

The Blurb:

THE STAKES ARE HIGH...
Ten strangers, recruited by an edgy new reality show and marooned on an abandoned island overrun by wildlife. One dies in a horrible accident.

Nine realize they are all past survivors, alive only because they've beaten incredible odds once before. One by one, their hidden secrets are revealed.

Eight discover they are trapped. Caught in a game so deadly that the most terrifying experiences of their lives were only its qualifying round, they must now face the greatest danger on the island… each other.

There's nothing deadlier than a survivor-type whose back is against the wall. And one of them is not who he or she claims.

Seven fight to escape.

Six try to solve the mystery of who lured them there and why.

Five… Four…

Will anyone survive New Year Island?

Voting closes on 12/12 at 11:59pm EST.