This TBR Poll meme is hosted by
Because Reading is Better Than Real Life
.
Here's How it Works:

On the first Saturday of each month, I will post three books from my TBR List. You all will help me choose which book I will read next, through the poll listed. On the second Saturday of the month I will announce the book that won. Then, I'll read the book and on the last Saturday of the month I'll post a review.

Have you all seen Epic Read's
365 Days of YA
? It's a REALLY neat infographic. YA isn't my favorite and it has to be a SPECIFIC kind of YA for me to get into it (NO pure romance), but there is definitely a bunch out there that does appeal to me, and I went through the full infographic and am using it as a
Challenge
of sorts for myself for this year. I have each quarter split apart into different pages, and have included the books I already read prior to 2015, the books I've read since starting this self imposed challenge, the books I want to read and the books that I might consider reading. If it didn't make my lists for each quarter, then it wasn't something I wanted to read.
That being said, for the middle month out of each quarter, I'm going to have you specifically choose books off of my TBR lists of 365 Days of YA books. I'll still try to give it a bit of variety within the YA genre, but it may just be 3 books I'm looking forward to the most that I just haven't read yet. Here's my complete
WINTER
section with books completed and everything I want to, or may, read. Have any other suggest of what I should read first, or what I should stay away from?
That being all said, on with the books for this month ~
The Books:
The Blurb:

Twelve ancient cultures were chosen millennia ago to represent humanity in Endgame, a global game that will decide the fate of humankind. Endgame has always been a possibility, but never a reality…until now. Twelve meteorites have just struck Earth, each meteorite containing a message for a Player who has been trained for this moment. At stake for the Players: saving their bloodline, as well as the fate of the world. And only one can win.

Endgame is real. Endgame is now. Endgame has begun.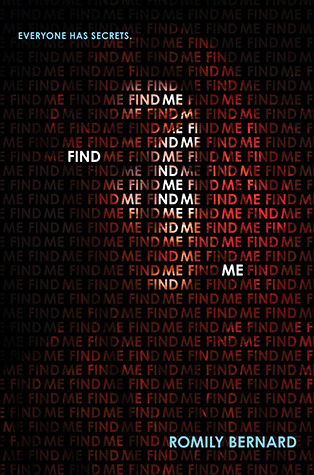 The Blurb:

"Find Me."

These are the words written on Tessa Waye's diary. The diary that ends up with Wick Tate. But Tessa's just been found . . . dead.

Wick has the right computer-hacking skills for the job, but little interest in this perverse game of hide-and-seek. Until her sister Lily is the next target.

Then Griff, trailer-park boy next door and fellow hacker, shows up, intent on helping Wick. Is a happy ending possible with the threat of Wick's deadbeat dad returning, the detective hunting him sniffing around Wick instead, and a killer taunting her at every step?

Foster child. Daughter of a felon. Loner hacker girl. Wick has a bad attitude and sarcasm to spare.

But she's going to find this killer no matter what.

Because it just got personal.

The Blurb:

Addison Coleman's life is one big "What if?" As a Searcher, whenever Addie is faced with a choice, she can look into the future and see both outcomes. It's the ultimate insurance plan against disaster. Or so she thought. When Addie's parents ambush her with the news of their divorce, she has to pick who she wants to live with—her father, who is leaving the paranormal compound to live among the "Norms," or her mother, who is staying in the life Addie has always known. Addie loves her life just as it is, so her answer should be easy. One Search six weeks into the future proves it's not.

In one potential future, Addie is adjusting to life outside the Compound as the new girl in a Norm high school where she meets Trevor, a cute, sensitive artist who understands her. In the other path, Addie is being pursued by the hottest guy in school—but she never wanted to be a quarterback's girlfriend. When Addie's father is asked to consult on a murder in the Compound, she's unwittingly drawn into a dangerous game that threatens everything she holds dear. With love and loss in both lives, it all comes down to which reality she's willing to live through . . . and who she can't live without.

Voting closes on 2/13 at 11:59pm EST.