Getting To Know You
is hosted by
Jenni Elyse
.
Sorry I missed last weeks posting of favorite candies. It's not that I don't like candy / chocolate (I do, I really do), it was that I was wrapped up in what ended up being THIS weeks topic ~ GAMES ~ specifically for me, video games. If you come here often enough, you know by now that last week I built my own gaming PC ~
Widget
~ and he's been amazing.
Needless to say, I spent pretty much all waking hours playing games, until Saturday when my controller stopped working!! We have a regular 360 controller that doesn't work with the PC (too old) and a knock off brand that did, until it started walking all our characters on their own. Both controllers are about 7+ years old, so I really can't complain, but I am miffed about not being able to play some of my more complex games. I'm playing some simpler ones, that I can use a mouse and keyboard with, but I wanna play my good games with a controller. :( Needless to say, I'm waiting on my new red Afterglow to show up and it's taking forever!! :/
So, here I am for today's topic, favorite games, and I'm mainly a video gamer. I haven't played any other kind of game, unless you count Poker, in years. I play the occasional android game on my Fire (WordChums) but that's about it.
My favorite games ~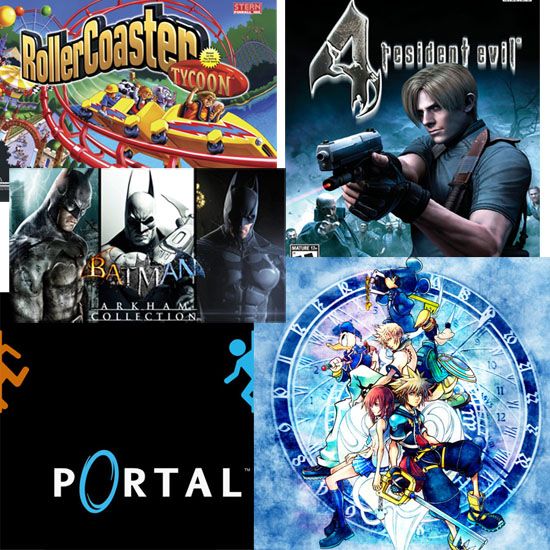 1 ~ Kingdom Hearts 1 & 2 - my all time FAVORITE games. I've never owned handheld devices, so I've never played the games in between. I hope to sometime when the remixes go down in price on the PS3 and KH3 will be the ONLY reason we will someday (far far down the road) buy a PS4. I love everything Disney (former employee) and Kingdom Hearts grabbed my heart from the start. It's wonderful!!
2 ~ Portal 1 & 2 - I LOVE puzzle adventure games and the Portal games are my favorites. I love to think during my gaming and these games were so much fun, so inventive. I really hope they put out more!
3 ~ Roller Coaster Tycoon - I've been playing RCT for YEARS. Being a theme park and amusement park lover and a roller coaster fan, I've loved this series since it came out. I love working the campaigns, but I also enjoy sandbox mode. The new one, RCT World, comes out sometime this year and I want it now!! :D
4 ~ Resident Evil 4 - I'm not a horror fan but crazy enough, I LOVE the Resident Evil series. I've been playing these since they came out on Gamecube. I loved the puzzle aspects of the first game (why I tried them) and though the puzzles became less and less, I still stuck with, and enjoyed, the series. 4 is the best, by far, and I've played it multiple times.
5 ~ Batman Arkham Collection - We started playing the Batman games when they started coming out, and they are fantastic. City has been my favorite so far (my hubby prefers Asylum) but the upcoming Arkham Knight (June Release) is going to be amazing. I can't wait for it!! :)
What are your favorite games? Are you a board gamer, or a video gamer, like me?