The Books: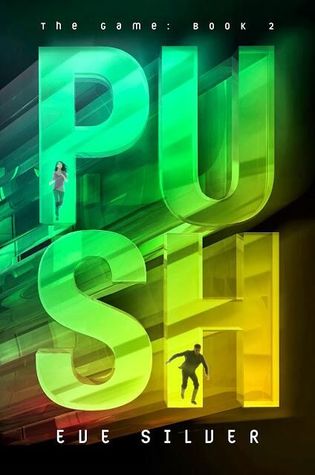 The Blurb for Rush:

So what's the game now? This, or the life I used to know?

When Miki Jones is pulled from her life, pulled through time and space into some kind of game—her carefully controlled life spirals into chaos. In the game, she and a team of other teens are sent on missions to eliminate the Drau, terrifying and beautiful alien creatures. There are no practice runs, no training, and no way out. Miki has only the guidance of secretive but maddeningly attractive team leader Jackson Tate, who says the game isn't really a game, that what Miki and her new teammates do now determines their survival, and the survival of every other person on this planet. She laughs. He doesn't. And then the game takes a deadly and terrifying turn.

The Review:
Completed 8/13
364 page ebook
I'm a fan of anything that says "game" and this one was actually a book about playing a game! It did take me a little while to get into it though. There was a lot of dialogue going on. She was asking questions, trying to figure out what was going on and she only received partial answers. But there was a lot of talk, not a lot of action but once the action got going, it was great.
Not typically the kind of book I'd read, just with the alien aspect but with a game it sounded to good to pass up and I am glad that I tried it.
Once it got going it kept picking up speed and kept my interest. I definitely got invested in the characters and how they were doing through everything going on. The ending had a "holy shit" moment that had me reaching for the 2nd book right away!
I recommend this book for anyone who is a sci-fi fan but also just a fan of fast paced survival games. This one is different with aliens, but it doesn't distract from the story so even if you aren't a fan of alien stories, you still may enjoy this one. It was a really fun read after a slower start, keeping me engaged throughout. Great book!
The Rating:

Loved it, really really enjoyable book! (4 stars)
The Blurb for Push:

It's either break the rules or die.

Miki Jones lives her life by her own strict set of rules, to keep control, to keep the gray fog of grief at bay. Then she's pulled into the Game, where she—and her team—will die unless she follows a new set of rules: those set by the mysterious Committee.

But rules don't mean answers, and without answers, it's hard to trust. People are dying. The rules are unraveling. And Miki knows she's being watched, uncertain if it's the Drau or someone—something—else. Forced to make impossible choices and battling to save those she loves, Miki begins to see the Committee in a glaring new light.

And then the Game crosses a new boundary, pushes harder into Miki's and her friends' lives, and there's nothing in the rules that can save them now.

Push is the sequel Rush fans will be screaming for.

The Review:
Completed 8/14
352 page ebook
The second in the series starts off quick. Thought it's not action right away, it's plenty of questions and still a lot going on, then the action comes back quick and you're pulled right back into it all.
This book brings some answers but a lot more questions for Miki, seems more action packed than the first. When it crosses the boundary, Miki's not sure what is going on, and neither am I. Don't want to wait so long on the next book!! Need it now.
The Rating:

LOVED it, such a great book! (4 stars)
Waiting on:
Crash

Expected publication listed as 2015