Top 10 of 2017 ~ A look back on a year of Bookish Bests hosted by
Kimberlyfaye Reads
See my
2017 Year in Review
at Goodreads.
My Top 10 New-to-Me Authors of 2017

I love discovering new-to-me Authors, and 2017 had plenty, as usual.
Here are my Top 10 favorite new-to-me Authors of 2017



Aleron Kong


I discover The Land series later in the year, and I LOOOOVE them. I've only read the first 4, as the 6th one is still to be released as an audiobook and he's still writing the 7th one, I didn't want to be caught up! I decided that my first book of 2018 will be the 5th book in the series. This series is a LitRPG series and I love the characters, I love the Land, I love everything about it. It's funny and it has heart and it's just so enjoyable! I will definitely keep reading the series as long as he continues to write them, which according to him will be a very very long time!


Jennifer Estep


This was the year for me for trying new Urban Fantasy, particularly with female main character. I tried series by Patricia Briggs and Ilona Andrews but didn't care of either (liked Kate Daniels more than Mercy Thompson) but I did love Jennifer Estep's Elemental Assassin, Gin Blanco. I like the character and the narration, it's a good enjoyable series (read the first 5 books) so far.


Al K Line


One of my favorite narrators is Gildart Jackson, and I search out new stuff he's read for. This year, I discovered the Dark Magic Enforcer series by Al K Line. I wasn't wowed at first, but love the narration and it did grow on me, and I enjoy the series now. I've listened to the first 7 books in the series and I'm waiting for the 8th to be released soon.


Annie Bellet


I love gaming and I love books about gaming and though I've never been a tabletop gamer, I decided to give the Twenty-Sided Sorceress series a try and I loved them. They were quick and enjoyable reads with good characters. I read all 8 books in the series this year, and I hope there's more at some point.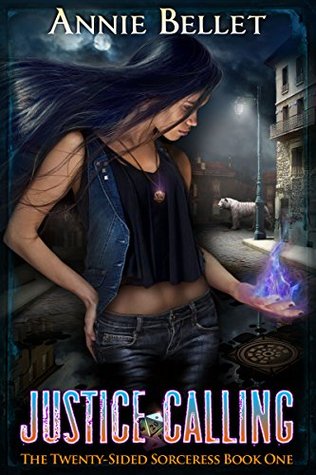 Shannon Hale


Though I've read only two of the Ever After High books so far, I really really loved them, especially on audiobook. The narrator does a fantastic job and the books are so funny. I still do need to get around to listening to the 3rd book in the series. I've even started watching the series and love it!


Derek Landy


Both my Husband and I are enjoying the Skullduggery Pleasant books, though I'm disappointed the narrator didn't stay the same throughout the series. Rupert Degas is really good and the others just aren't as good so far. I've read the first 5 books in the series and my Husband has read the first 4.


A few more

I think those are really it that I got into the series and really enjoyed them. Here's a few more authors I loved, but it was only one book that they have written so far (or that I have read) so I'm waiting on more from them in the series that I started and loved.



Laura Ruby


I know she has several books, but the first book in the Clockwork series was the first I read by her, and I LOOOOOVE it. It's top 4 of new-to-me books this year (see my upcoming book bracket about that). I thought the book was adorable and I can't wait for the next one!


Scott Reintgen


This debut book was ALMOST perfect. As it was, I really loved it a ton and I'm looking forward to the rest. If only he hadn't thrown in an insta-love at the very end, it would have been perfect. I don't know why authors feel they HAVE to have romance in a book, it was perfect without it. Still, quite and enjoyable book!


Amber Kell


I read Keys for a challenge and wasn't expecting much and I absolutely LOOOOVED it. Really liked the main character, liked the town and the storyline. It seems like a sequel isn't coming but if it does, I will definitely read it.


Neil Patrick Harris


A last minute addition to my book bracket, this book by NPH is sooooo adorable and landed in my top 8 books of the year. It's fun with cute characters and while it's not perfect, it's quite enjoyable and fun. I can't wait to read more!