A Month of Favorites is hosted by
Girlxoxo
,
Traveling with T
&
Estella's Revenge
.
So today's prompt is 5 Books I Almost Put Down and I'm Glad I Didn't. To me, that seems to mean books that you started, weren't liking and ended up liking in the end. This doesn't happen to me. I know right away if I'll like a book or not, and I can't recall what it was (it was year ago) but only one time in my life have I gone back to a book I didn't like at first and ended up liking it.
What that means for this prompt is a little different for me. These are 5 books that I almost didn't try, for one reason or another, and I'm glad that I did. My interest in books changed a LOT this year, I've really grown as a reader. I have gone beyond genres and I read what sounds good to me, no matter the genre, which I hadn't done before this year. That got started, with the first book on my list. :)
5 Books I Almost Never Started
but I'm sure glad I did.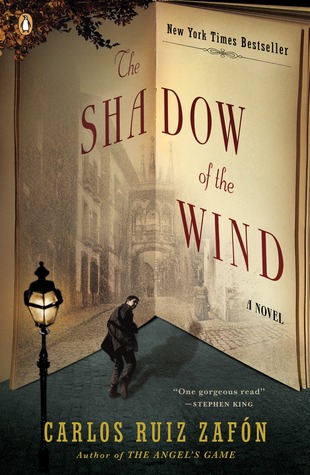 1 ~ The Shadow of the Wind ~ At the beginning of the year, I was on a 'books about books' kick and stumbled across TSofW. It's not something that would typically be on my radar, WAY far outta my comfort zone. But I kept being drawn to it, and finally ended up starting it. I didn't even tell my hubby I had started it for a few days because he would have been surprised, to say the least. Now, it's my favorite book of the year and all time 2nd favorite book. It was just GREAT, and it helped me destroy my so called comfort zone, and be willing to try much much more now!
2 ~ Lock In ~ This book has a weird description. I had read Reshirts by Scalzi but none of his other books as they don't really appeal to me. So I was hesitant about this one because of the description which reads like some sort of medical drama to me. That's not what it is, AT ALL. It's a WONDERFUL mystery and is amazingly imaginative, and I loved it from the start, and I'm glad I gave it a chance, it too has landed on my favorites of the year, and all time.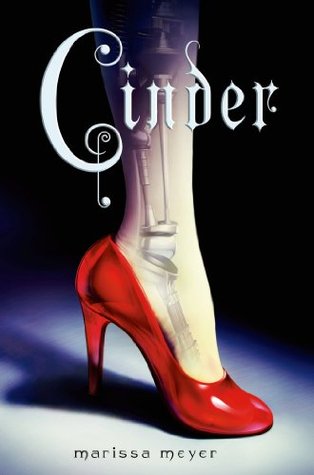 3 ~ Cinder ~ This may seem like a weird choice for some of you, but I wasn't sure about it when I picked it up. It's my very first re-telling of any kind. I'm not a huge fairy tale fan, not the originals anyways. Having grown up with WDW in my back yard and spent 16 years playing/working there, I'm more of a fan of the Disney versions. So, Cinder was new for me but I ended up really really loving it and it opened my eyes to more retellings which I've enjoyed quite a few now. Cinder was also the first book I read in 2014. :D
4 ~ Rush ~ While I'm a Star Trek fan, I wouldn't say that I'm a fan of alien stuff, so I ignored Rush for quite a while, though it kept calling to me. I am a HUGE fan of anything where a game is being played out in some way (Ready Player One, Hunger Games) but this one was unappealing to me because of the whole alien thing. Finally I caved, I'd been reading other books I thought I might not like and enjoyed them, so I was going to give this one a try and I ended up LOVING it. I enjoyed the characters and the story and I was glad I took a chance.
5 ~ Taken ~ I hadn't read this one for the same reason as Rush. In the description, it talks about boys being taken in some kind of heist, and I thought it could be aliens and I didn't have interest in that. But after I read an alien book (Rush) and liked it, I decided to take a chance on this one, and I LOVED it so much. It was not aliens (that's what I get for assuming) and it was a great story with wonderful characters. It's one of my favorites of the year.
Though my list is a bit different, because these are books I might not have picked up (instead of not liking and ending up liking) I'm glad I read them. Because of these books, I've really learned to look beyond genres and read what sounds good to me, no matter where, when or how it is set up. It really is wonderful to not have a comfort zone of reading anymore, and just be open to reading it all.
What book did you almost put down?
Do you have a reading comfort zone, or
have you grown beyond the confines of it?
Holiday Disclaimer:

I just wanted to mention that I hope I don't offend anyone by not saying Merry Christmas wishing a good Holiday. We don't celebrate Christmas, not for religious (or none as it is) reasons, but because we don't find joy in holidays. It's not a time of year I enjoy (though I used to) and it doesn't even feel like Christmas to me, it's just another week. So, I don't mean to offend, and I hope that I don't, when I'm not wishing you all a good holiday, it's just that I'd rather not be reminded it is one. I DO hope you all are having a great time though!