18 1/2 hours down, and I'm sleepy!! Not too bad though, still pushing on through. Hoping to actually get to some blogs that I follow regularly. I've been focusing on making sure I've been getting to all my cheering posts. Taking a bit longer on a bunch of them because I have to wait for translate to work sometimes, or for the posts where everyone is updating in one post, my computer doesn't like it and will take FOREVER to load. Slowly but surely I've been getting through them all though, and more than once. Whew!!
With reading, I've read about 50 more pages than I did all of the last RaT, so YAY!! I'm still aiming for 2000 pages, so I better get back to it, with 5 hours to go. Dunno if I'll make it, doubtful really, but I'll be close I hope. At least I read more than last time, both in books and pages. :D
Hubby crashed out at 1:30. I had initially said he'd only make it until one. Then he started getting excited about it, so I was hoping he'd make it til 3. Didn't happen, and he was really straining after 12, so yay for him stretching it out until 1:30. The house is quiet. Dog (our Pit Bull), cat (cat sitting for a friend) and hubby are all asleep. It's just me still going strong. I'm here til 8. Then I'm going to find a nice good way to wake my hubby up ;) and see if I can sleep before football. I'm guessing I won't be able to, but we'll see. As long as I get sleep sometime before my game Monday night, it's all good. :D
So, let's see what's been going on at Dewey's! Have I missed anything good?
Challenges
Challenge 15 ~ Color Challenge. I'm totally going to cheat on this one, and use a previously done color cover challenge. Saves me time, right? :)
Challenge 16 ~ Book Spine Poetry ~ too late and tired to try, and it's a photo so no go.
Challenge 17 ~ This is an old (but my favorite) photo of our Pit Bull Naminé. This was taken just a few months after we got her, and we've had her 2 years now.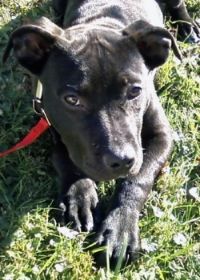 Challenge 18 ~ not a Mad-Libs fan
Challenge 19 ~ I don't really have a genre, not any more. I used to, it was mystery/suspense all the way, but now as long as the book is good, it doesn't matter the genre. I've definitely branched out in my reading, a TON and I love it!!
Challenge 20 ~ not reading anything, ATM. Took a break to do an update and don't know what I'm going for next.
Updates
Audio listening time/pages: 6 hr
Kindle reading time / pages: 8 hr 30 min
Total number of books I've read: 6
Total Pages Read: 1,134 pages
Total Time Read: 14 hr 30 min
Challenges Participated in: Quotable Quotes & Name your Read-a-thon
Total blogs visited: 70ish
Completed Books: