Read Play Blog is a meme about video games and books, posted every 16th of the month. Bloggers are encouraged to answer a discussion question, and recommend a video game that is similar to a book they liked. Hosted by
Happy Indulgence Books
&
Read Me Away
.
Info:

What is Read Play Blog?
A monthly meme about video games and books!

How does Read Play Blog work?
Every month, we'll ask you a discussion question about your VG interests and recommend a game based on a book we liked. We'll have a linky, and you can make your own post answering the question and recommendation, and link up!

When does the post go up?
On the 16th of every month to pay homage to retro 16 bit games.

Who can participate in Read Play Blog?
Anyone who likes video games! No matter the genre or age, whether you like action/shoot-em-ups or story-driven RPGs or point-and-click games, or if you're a new gamer or a seasoned one, you're very welcome to participate!

What Character I Would Like to Be For Halloween
I'm not at all into holidays anymore and haven't done dressing up for Halloween since I was 10ish? So, I'd never dress up for anything (unless I had a Jessica Rabbit body, which I don't) but for the sake of this post, I'll choose something. My favorite video game character is Kairi from Kingdom Hearts, but for reasons I'd never dress up as her. If I were to dress up as any character I would choose Ada Wong (though I'm not Asian) from Resident Evil or Harley Quinn from Batman Arkham Asylum.
Ada is kick-ass and she looks great doing it. I'm not a girlie girl but if I was skinny and had the body for it, I'd definitely go for the Ada Wong outfits!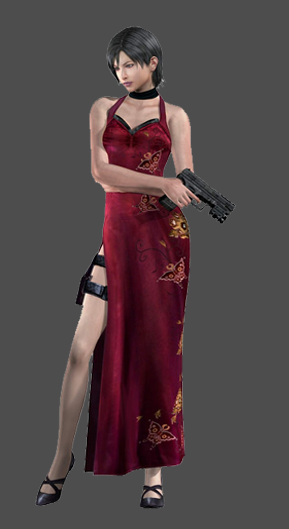 I'd go with Harley because of her cute outfits as well. She's kick ass too, even if she is bad. :)
Recommendation for the Month
My recommendation for the month is my new obsession ~ Word Chums. It's a cutsey type of Words with Friends. I've been playing tons, it's a lot of fun. It's a free app. If you play, feel free to add me ~ ImzadiRose
Currently Playing
I started playing a re-play of Resident Evil 4 on our Wii. It's the best Resident Evil game ever made, I believe. So much fun, even playing it over and over. This is probably my 4th or 5th play thru. Then, PS3 came out with Arkham Asylum free for Plus members, so I started my re-play of that. It's only my 3rd play-thru of it. My husband prefers Asylum and while I love it, I prefer City. They are all great though, and I can't wait for Knight! We'll be buying a PS4 just to get that (and Kingdom Hearts 3), and hope they do a bundle for either game.