I meant to sign up for this a few weeks ago when I saw it, and time just got away from me. Regular readers will remember when I was sick last month with a cold, and wasn't posting much. Well, now my hubby decided to get us sick AGAIN and this time is WAY worse than last time. I feel like CRAP, and my days have just fallen away from me. Anyways, here I am for the start of this.
This first one may look familiar, since there's been a few things going around with the best of books and I'm too lazy to format a completely different post. But hopefully more new people will be coming by to check it out, and they don't need to know that I already posted these favorites of the year. :)
I did, however, remove one of my favorite books, and exchanged it with something new. With many of the lists I've been seeing over the last few weeks, a ton of people are posting the same books. I understand that a lot of people like the same stuff, but I wanna see different stuff, get ideas for new books. I'm glad that my books are a bit different than the normal lists out there and I hope there will be some people who take a chance on some of these books, because they are fantastic!!
That being said, I traded out Cruel Beauty for a new book. I enjoyed Cruel Beauty, a TON, as I enjoyed the Lunar Chronicles, but leaving them outta my top 10 give my readers a chance to check out other books they might not have heard of. Top 10 was easy for me to do, though top 20 would have been better (so I'm going to borrow an idea I saw around, and add a few more). :) With my Top 10, I didn't include any re-reads and only included 1 book of a series, so I could get a variety of books in there. So, here's my Top 10 of the year, linked to GoodReads, as always.
Top 10 ~ Books I Read in 2014
Honorable Mentions ~
Cruel Beauty by Rosamund Hodge
Game series by Eve Silver
Lunar Chronicles series by Marissa Meyer
Selection series by Kiera Cass
Testing series by Joelle Charboneau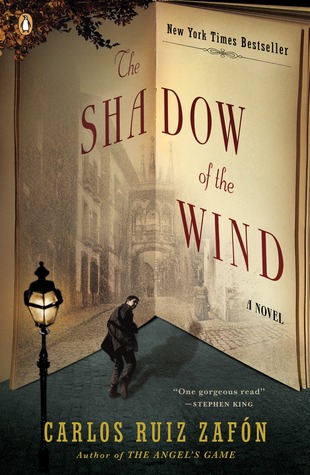 1 ~ The Shadow of the Wind ~ the real start of my not paying attention to genres anymore. This literary novel isn't something I'd normally try but I was on a "books about books" kick and gave it a try and OMG did I love it, and it's sequels. A book mystery and I LOVED it so much!! I highly recommend, if you are up for something a little deep and heavy.
My Review
2 ~ The Great Zoo of China ~ the opposite of TSotW in every way, this adventure book is all guns blazing and unimaginable creatures. Think Jurassic Park meets Godzilla (of the 90s). I'm a huge fan of Reilly, have read almost everything he's written, this is definitely my favorite of his. If you loved Jurassic Park, you're gonna wanna read this book!
My Review
3 ~ Lock In ~ Don't look past this book because of it's description, which reads like it'll be some boring medical thing. It's not, at ALL. It's a mystery tied into the world where many people are "Locked In" to their own bodies and use robot like machines to house their minds, so they are able to still live in the real world. Different and very imaginative, it's definitely worth a read!!
My Review
4 ~ Redshirts ~ The first book by Scalzi that I read, this book is a Star Trek spoof. If you are a Trekkie (as I am) you are going to find this book really enjoyable and so funny. I had a hard time muffling my laughs, when I listened to this book at night. Really enjoyable and this book as well as Lock In were made more enjoyable, for me, because I listened to Wil Wheaton narrate. While perhaps not the best narrator, he sure is entertaining!
5 ~ Timebound ~ This year saw me reading a lot of time travel books, which I don't know that I've done before. I enjoyed most of them, but the Timebound series was definitely my favorite. Kate learns she's a time-traveler and she's trained by her grandmother to fix the timeline, which a group of people are changing. Enjoyable story, great characters and a lot of fun to read.
6 ~ 15 Minutes ~ Another time traveling book that I enjoyed. In this one time travel is something you can do like taking a vacation, and Lara decides to go back and save her mother from being mugged when Lara was young. She didn't know everything else that was going on at the time and things end up changing in ways she couldn't imagine and didn't want. She spends her time trying to fix everything and make everything the way it should be. Really enjoyable!
7 ~ Taken ~ I almost didn't give this book a chance, because the description reads like some kind of alien snatching up the boys of where they live, but I am so glad I read it. It's not aliens and this was a wonderful dystopian book. I love the characters of this book, as well as the storyline, and the cover is so pretty as well!!
8 ~ An Evil Mind ~ this book is the newest from one of my favorite series. If you like reading crazy serial killer books, there isn't much better than the Robert Hunter series by Chris Carter. Carter writes crazy REALLY well and this one was definitely crazy and very enjoyable, if you like those kinds of books (which I do!).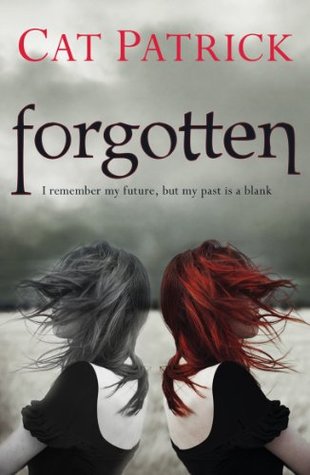 9 ~ Forgotten ~ This was a different and enjoyable book. In it, London only has memories of the future. Everyday her memory is reset, so she doesn't remember any of the days before. She has to leave herself notes so she knows what she wore to school, and what tests are upcoming. It's really different and interesting. A really enjoyable story!
My Review
10 ~ Hover Car Racer ~ another Reilly that I didn't get to until now, this book was just a real FEEL GOOD book. It's about young Jason Chaser who is just 15, and his younger brother Bug. They race Hover Cars, and go to a special school for Hover Car racers. I listened to this book on audio and stayed up all night listening to it, because I couldn't turn it off. It was just a great good, good for middle grade and up, as long as you are ok with some mild swearing. A really enjoyable book!
What were your favorite books of 2014?
Holiday Disclaimer:

I just wanted to mention that I hope I don't offend anyone by not saying Merry Christmas wishing a good Holiday. We don't celebrate Christmas, not for religious (or none as it is) reasons, but because we don't find joy in holidays. It's not a time of year I enjoy (though I used to) and it doesn't even feel like Christmas to me, it's just another week. So, I don't mean to offend, and I hope that I don't, when I'm not wishing you all a good holiday, it's just that I'd rather not be reminded it is one. I DO hope you all are having a great time though!