Just as a reminder about my bracket ~
I read 310 books in 2014, 299 of them new-to-me
I only used new-to-me books, NO re-reads were included
I only used ONE book per series
My list was mostly randomized
I DID move a few books around, so my best-of-best weren't against each other
Welcome back to the Final Four!
This was a really simple bracket for me, but I admit to some tweaking with these. I made sure at least 3 of these were in separate quadrants so that they weren't up against each other until the very end. I've known all along my favorites of the year. :)
That being said, the two I'm most disappointed about losing in this round were ~
It was lucky that these were up against what they were, so it was an easy choice, but I still didn't like losing them. If either of these had been up against Redshirts, I would have had a harder time deciding on what to keep than I did with Redshirts up against Cruel Beauty. I think that if Timebound had been up against Reshirts, it would have moved on to the final 4 while Hover Car Racer would have, sadly, stayed behind.
My final 4 is what I expected though, my favorites of the year. Really great and enjoyable books that I thought were fantastic for a LOT of action and/or a great mystery. I'm definitely all about action and/or mystery.
Have you read any of my Final Four?! Why not?! These are the best of the best for the year, for me. Fantastic books. Do you think my final 2 will be easy choices for me?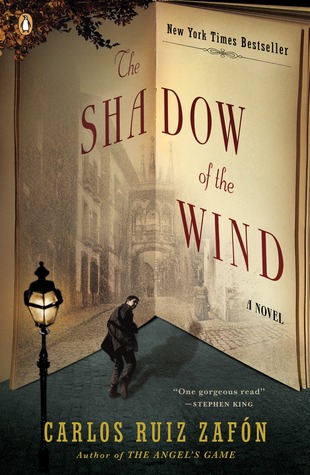 Some thoughts on these Final 4 ~
Redshirts ~ I'm a Star Trek fan (Voy & TNG). I've read all the ST:TNG books up into the 50s and all the hardcovers. It's over 100 ST books I've read. Though I haven't read any recently, I'm still a Star Trek fan. I had never heard of Scalzi, but came across this Star Trek spoof about the redshirts, who on ST are famous for not surviving missions. This plays off of that, and is super funny. Wil Wheaton reading it made it even better!
Lock In ~ I was surprised that the same author ended up in the Final Four, especially since I hadn't heard of him before Redshirts. I saw the blurb for Lock In and since Wil was yet again reading for it, I decided to give it a try, even though it sounded pretty medical. It wasn't though, it was a crazy and awesome mystery, so different and inventive. I do hope it's a series, and I can't wait to get back into this world!
The Shadow of the Wind ~ I'm not a historical fiction fan, but I was on a book about books kick and the blurb for this one caught my attention, so I thought I'd just start it, figuring I wouldn't get far into it before I gave up. How wrong I was!! This grabbed me from the start. How can a series titled "Cemetery of Forgotten Books" not sound enticing?!
The Great Zoo of China ~ I'm a Matt Reilly fan! I have read 12 of his 14 books, the two I haven't are so NOT my style (nor normally his) but I'll give them a try at some point. TGZoC grabbed my attention from the moment it was announced, and I was NOT disappointed. Jurassic Park meets Godzilla (90s one) in this fantastic thriller!