Just as a reminder about my bracket ~
I read 310 books in 2014, 299 of them new-to-me
I only used new-to-me books, NO re-reads were included
I only used ONE book per series
My list was mostly randomized
I DID move a few books around, so my best-of-best weren't against each other
It's time to pick a winner of the BEST book that I read, in 2014.
This WAS the hardest choice for me, as I had two VERY great but VERY different books to choose from. It was also hard for me because I read one book at the beginning of the year (well, beginning of April) and one book near the end of the year (mid November). I did debate these, but in the end, went with what I knew that I would. Before we get to that point, let me tell you a little about these books and my thoughts on them, since they couldn't be much more different from each other!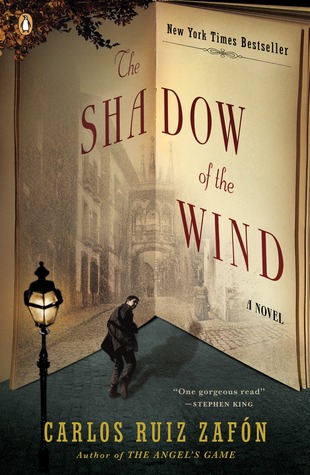 The Shadow of the Wind

by Carlos Ruiz Zafon

Barcelona, 1945. Just after the war, a great world city lies in shadow, nursing its wounds, and a boy named Daniel awakes on his eleventh birthday to find that he can no longer remember his mother's face. To console his only child, Daniel's widowed father, an antiquarian book dealer, initiates him into the secret of the Cemetery of Forgotten Books, a library tended by Barcelona's guild of rare-book dealers as a repository for books forgotten by the world, waiting for someone who will care about them again. Daniel's father coaxes him to choose a volume from the spiraling labyrinth of shelves, one that, it is said, will have a special meaning for him. And Daniel so loves the novel he selects, 'The Shadow of the Wind', by one Julian Carax, that he sets out to find the rest of Carax's work. To his shock, he discovers that someone has been systematically destroying every copy of every book this author has written. In fact, he may have the last one in existence. Before Daniel knows it his seemingly innocent quest has opened a door into one of Barcelona's darkest secrets, an epic story of murder, magic, madness and doomed love. And before long he realizes that if he doesn't find out the truth about Julian Carax, he and those closest to him will suffer horribly.

With this book, I got mystery, complex relationships, and a new-to-me author. This book was a book about books and sucked me in from the start, though I was REALLY surprised that it did!
If you knew me at all, you would know that this book is a VERY VERY atypical book for me to choose to read. In fact, when I started it, I didn't even tell my Hubby that I was reading it, because He wouldn't have known what to think, and didn't when I told Him. This book, on the surface, had a few things that I don't typically read, mainly that it's historical fiction ~ only one other book I have read and enjoyed that was historical fiction and another thing is that it's set in a foreign country. I can handle made up worlds fine, but I had always had a hard time reading books set in other countries because I couldn't picture where they were or how things were there.
The Shadow of the Wind was a break from my norm in every way, and is the book that I consider helped me move beyond "genre" into being willing to read anything that sounded good to me. I ADORED this book, so much. It had heart, it had soul, it had mystery and intrigue. It's very detailed and wordy and a word I used to describe it was "heavy". The whole thing just felt different to me, worlds away from any book I had read before.
You get grabbed up into Daniel's world. One where we are with him as he grows from boy into man and after finding the book that he claims as his, we follow his journey to figure out why the books by that author have been destroyed. We meet a ton of characters along the way, some good and some not so good.
This was just a GREAT book, and for me, it did more than just being an enjoyable read for a few days. It got me out of my so called "comfort zone" and made me realize that I can enjoy books from any time, any genre, as long as the story appeals to me.
The Great Zoo of China

by Matthew Reilly

It is a secret the Chinese government has been keeping for forty years.

They have found a species of animal no one believed even existed. It will amaze the world.

Now the Chinese are ready to unveil their astonishing discovery within the greatest zoo ever constructed.

A small group of VIPs and journalists has been brought to the zoo deep within China to see its fabulous creatures for the first time.

Among them is Dr. Cassandra Jane 'CJ' Cameron, a writer for National Geographic and an expert on reptiles.

The visitors are assured by their Chinese hosts that they will be struck with wonder at these beasts, that they are perfectly safe, and that nothing can go wrong.

Of course it can't…

GET READY FOR ACTION ON A GIGANTIC SCALE.

With this book, I got non stop action, a unique and amazing setting, and a favorite of mine author. This book was a book about a unbelievable zoo and sucked me in from the start, though I was NOT surprised that it did!
I am a Matthew Reilly fan. My Hubby introduced me to Reilly YEARS ago when He suggested I read Reilly's first Scarecrow book,
Ice Station
. I hadn't read anything like it before, I was ~ at the time ~ mainly into romance, some suspense and Star Trek. With Ice Station, it was non-stop action from start to finish and I found out that I REALLY REALLY liked that! I since have read 12 of Reilly's 14 published books and he's one of my favorite authors.
The Great Zoo of China did NOT disappoint. I was excited about this one ever since I heard it was coming out. There are reviews that are critical to it's similarities to Jurassic Park, but I'm not one of those people. YES, it's very similar to Jurassic Park, it's set in a zoo ~ park if you will, and it has creatures never seen before my humans. What could go wrong? Everything of course, just like JP. BUT, I contend that there are NO new ideas out there. Even the newest most different concept has elements that appear in other books because everything has been done over and over and over again. There's just no new things, but if it's done well, then who cares?
I found The Great Zoo of China to be fascinating on many aspects. First, we have the zoo, which is a zoo of (this isn't a spoiler as you can clearly see the tail, plus on the other copies of the book, the actual creature is visible) dragons. It's amazing in it's scale and typical of Reilly, he's added maps of all the different places they go. I love Reilly's maps, they put his worlds into perspective. Then there is the female lead, which is a change for Reilly and it was GREAT!! There's no big romance here, just a strong and kick-ass woman who survives and helps others to survive and saves the day.
There are so many great things about both of these books and I could go on and on. But I'm sure you just wanna know the winner. As hard as it was to decide, I had to go with the one that I've said all along is my favorite, though it did get barely narrowed out. It's gotta take the win for a few reasons. So, for the last time, I give you my final bracket.
And the Winner is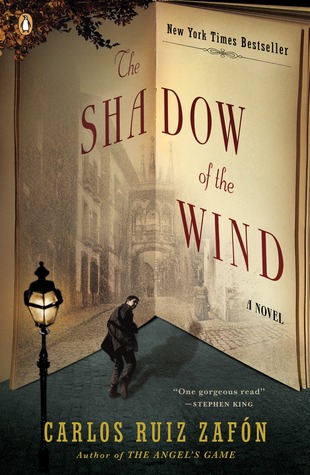 I ended up having to go with The Shadow of the Wind in the end, for multiple reasons. One ~ it was just a fantastic book and Two ~ it sucked me in and I loved it so much DESPITE it being a book I normally wouldn't have looked twice at. I expected to love Reilly's book, but I didn't expect The Shadow of the Wind to take such hold of me, and for that, it takes the win. I can take solace in knowing that for books released in 2014, The Great Zoo of China definitely takes the win in that one!!
I hope you have enjoyed my brackets, and I hope you will give a few of my books a chance, especially the ones in the final 8, which are unlike so many other peoples choices for best books out there. I read different books than others, and love them so much, and I always hope that someone will give them a try! Thanks for joining me for this Bracket Challenge.