This TBR Poll meme is hosted by
Because Reading is Better Than Real Life
.
Here's How it Works:

On the first Saturday of each month, I will post three books from my TBR List. You all will help me choose which book I will read next, through the poll listed. On the second Saturday of the month I will announce the book that won. Then, I'll read the book and on the last Saturday of the month I'll post a review.

Hey all!! Nice to see you in the new Year. :) I'm back with the 1st TBR Poll of the year. Last month's
New Year Island
was a great book, I really enjoyed reading it, so I'm looking forward to y'all picking another great book for me to read. Here are 3 very different books for you to choose from. What will you have me read this month?!
The Books: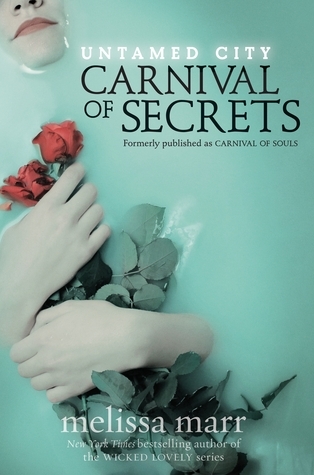 The Blurb:

In a city of daimons, rigid class lines separate the powerful from the power-hungry. And at the heart of The City is the carnival, where both murder and pleasure are offered up for sale. Once in a generation, the carnival hosts a deadly competition that allows every daimon a chance to join the ruling elite. Without the competition, Aya and Kaleb would both face bleak futures—if for different reasons. For each of them, fighting to the death is the only way to try to live.

All Mallory knows of The City is that her father—and every other witch there—fled it for a life in exile in the human world. Instead of a typical teenage life full of friends and maybe even a little romance, Mallory scans quiet streets for threats, hides herself away, and trains to be lethal. She knows it's only a matter of time until a daimon finds her and her father, so she readies herself for the inevitable.While Mallory possesses little knowledge of The City, every inhabitant of The City knows of her. There are plans for Mallory, and soon she, too, will be drawn into the decadence and danger that is the carnival.

The Blurb:

Former CIA assassin Alex Parker works for The Gateway Project, a clandestine government organization hell-bent on taking out serial killers and pedophiles before they enter the justice system. Alex doesn't enjoy killing, but he's damn good at it. He's good at dodging the law, too—until a beautiful rookie agent has him wondering what it might be like to get caught.

FBI Special Agent Mallory Rooney has spent years hunting the lowlife who abducted her identical twin sister eighteen years ago. Now, during an on-going serial killer investigation, Mallory begins to suspect there's a vigilante operating outside the law. She has no choice but to take him down, because murder isn't justice. Is it?

When Mallory starts asking questions, The Gateway Project management starts to sweat, and orders Alex to watch her. As soon as they meet, the two begin to fall in love. But the lies and betrayals that define Alex's life threaten to destroy them both—especially when the man who stole her sister all those years ago makes Mallory his next target, and Alex must reveal his true identity to save the woman he loves.

The Blurb:

Jerry Beche should be dead. Instead, he's rescued from a desolate Earth where he was the last man alive. He's then trained for the toughest conditions imaginable and placed with a crack team of specialists. Every one of them is a survivor, as each withstood the violent ending of their own alternate Earth. And their new specialism? To retrieve weapons and data in missions to other apocalyptic worlds.

But what is 'the Authority', the shadowy organization that rescued Beche and his fellow survivors? How does it access other timelines? And why does it need these instruments of death?

As Jerry struggles to obey his new masters, he begins to distrust his new companions. A strange bunch, their motivations are less than clear, and accidents start plaguing their missions. Jerry suspects the Authority is feeding them lies, and team members are spying on him. As a dangerous situation spirals into catastrophe, is there anybody he can trust?

Voting closes on Jan 9th at 11:59pm EST.